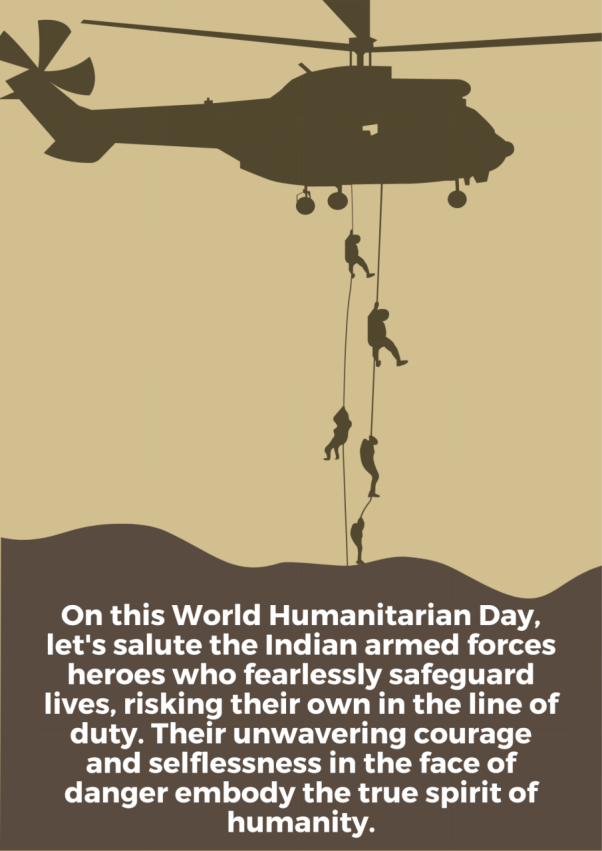 Honouring India's Armed Forces Heroes on World Humanitarian Day
On this #WorldHumanitarianDay, let's take a moment to salute the extraordinary heroes of the Indian armed forces who exemplify the true essence of courage, sacrifice, and compassion. These brave individuals put their lives on the line to protect others, showcasing the best of humanity in the face of danger.
From the Indian Army to the Navy, Air Force, and Paramilitary Forces, these heroes not only safeguard our nation's borders but also extend their hands in times of need. Whether it's rescuing flood victims, providing medical aid in remote areas, or swiftly responding to natural disasters, they embody the values of duty, honor, and service.
Operation Raahat (2015) in Yemen, Maitri (2015) in Nepal, Sankat Mochan (2016) in South Sudan, Vande Bharat and Samudra Setu (2020) and Ganga (2022) in Ukraine, are a few examples of recent years where India had carried out humanitarian operations either for its own or foreign nationals or both due to crises arising out of civil/military unrests or natural calamities. These missions highlight the Indian armed forces' commitment not only to our own citizens but also to humanity as a whole.
On this day, let's stand united in honoring the selflessness and bravery of our armed forces heroes. Their commitment to both national security and humanitarian efforts sets an example for us all. Let's ensure that their stories are heard and their legacy lives on.
#ArmedForcesHeroes #WorldHumanitarianDay #SaluteToHeroes #IndianArmedForces
Designed by Ananya Ameya