In recent times there has been a shifting of goalposts by major world powers from other areas of conflict to the Indo Pacific region. This has largely been due to the Chinese belligerence in the South China Sea by hegemonizing its intention over the entire sea waters defying laid down UN conventions and international maritime laws. To contain the running amok of this rogue nation, the United States of America has taken the lead to form alliances with its allies and like-minded nations in the formation of QUAD as well as AUKUS. It would be therefore necessary to understand the geopolitical significance of these developments and the role which India envisages to play.
Significance of the Indo-Pacific Region
The Indo-Pacific region has more than half of the World's population. The region has 2 billion people living under democratic rule. This region generates a third of the World's economic output, more than any other region of the World. Furthermore, three of the most important allies of the United States namely Japan, South Korea, and Australia are located here. In addition, India, Indonesia, and Taiwan share common interests in their getting together against a common adversary, "China". More than one-third of the foreign trade of the World takes place in this region. The United States has a tremendous stake here with over a trillion dollars of direct investment. The World's largest economies are located in the Indo-Pacific region namely, China, India, Japan, Indonesia, South Korea, Thailand, Australia, Taiwan, Malaysia, and the Philippines. Therefore, it is evident that this region will be at the forefront for maintaining dominance by superpowers.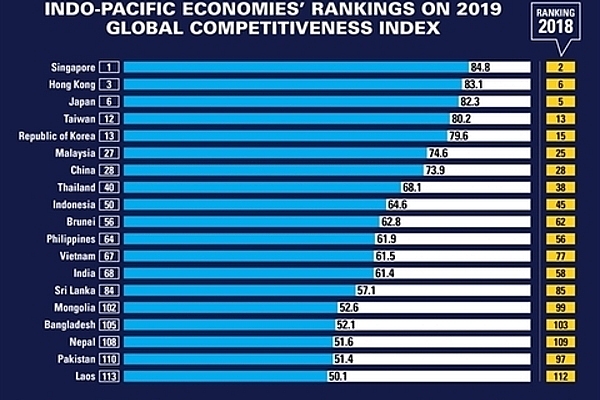 Over the next decade, a range of major events could occur that would have a significant impact on this region. These could include large-scale interstate conflict on the Korean Peninsula or over Taiwan as well as smaller-scale interstate conflicts over disputed territories such as the Senkaku Islands, the Spratly Islands, or Scarborough Reef. Conversely, some of these disputes might be peacefully resolved, which would also affect the policies and actions that need to be taken by India to take to promote and defend its own interests in the Indian Ocean.
Ingredients of an Indo-Pacific Strategy
The foremost challenge the nations of the Indo-Pacific region face today is the emergence of China as a dominant military power and its efforts to continue to control Taiwan, the South China Sea, and the Senkaku Islands (Japan). There is also a threat that Beijing will continue to subvert countries' political systems in the Indo-Pacific. Therefore, the countries which can play a significant role in this region besides the US are Japan, South Korea, India, and Australia. 
The Indo-Pacific strategy, therefore, has to devolve itself into strengthening relations with these countries. The areas which need to be addressed are improvement in defence cooperation so as to strengthen each other's military capabilities, reduce the external military threat, promote economic assistance, and look at threatening environmental issues such as ozone depletion and greenhouse emissions.
The seven key actors identified which would need to get together to counter the Chinese challenge would be the US, India, Japan, Australia, South Korea, Indonesia, and Taiwan.
India's Strategy for the Indo-Pacific Region
The focus of the Indian strategy emanates directly from the ingredients of the Indo-Pacific strategy i.e., strengthening ties with the Indo-Pacific powers especially with the USA, Japan, Australia, Indonesia, and Vietnam. This will result in the improvement of India's defence capabilities and force China to divert its attention to the other nations in the Indo-Pacific. Another important aspect is to improve India's capability to conduct military operations in the Indian Ocean.
Japan and Australia have been proactive in this regard. Japan has increased its defence cooperation with both Australia and India, while Australia has increased its defence cooperation with Japan, India, and South Korea. However, these increases are from a low base, and South Korea's and Indonesia's defence activities with the other Indo-Pacific democracies have been limited compared to those of India, Japan, and Australia. In addition, like the United States, all of these countries have tended to focus on individual bilateral relationships as opposed to multilateral cooperation. The United States has taken the lead in posturing multilateral defence cooperation with and among these countries, including by organizing exercises and symposia involving the five U.S. treaty allies in the region (Japan, South Korea, Australia, the Philippines, and Thailand), to which selected other countries such as India and Indonesia have been invited to participate.
Indian strategists recognize that China is dependent on sea lines of communication that pass through the Indian Ocean, this is an area where India enjoys the advantage of proximity. The recent up-gradation of our naval bases in Andaman and Nicobar Islands, as well as Lakshadweep, is a step in that direction. We have also acquired economic and military access to the Indonesian island of Sabang, North of Sumatra where we would be building a port as well as constructing a hospital.
Challenges and Opportunities
India has attempted to build up its diplomatic and strategic presence across islands in the Indo-Pacific. While the Indian Ocean islands hold a significant place in India's strategic profile, India has also reached out to the Pacific region and, most recently, the Caribbean islands. India has also offered a concessional line of credit of $150 million to Pacific Island countries for projects in solar power, in other renewable energy sources, and related to climate change.
Moreover, India's outreach to the island nations in an effort to establish itself as a leader by providing solutions and initiatives to address their security concerns. This kind of approach will lend itself to establishing a positive relationship with nations and increasing our own presence and diplomatic outreach. Nevertheless, the recognition of the islands' geographical importance underlines the shift in New Delhi's strategic interests and ambitions in the Indo-Pacific. Simultaneously, India increased the frequency of its collaborations with its key partners—Australia, France, Japan, and the United States—in the Indo-Pacific. 
France and India came together to launch the International Solar Alliance in an effort to promote renewable energy, fight climate change, and reduce the cost of solar energy. India has also participated in naval exercises with France and UK off the Malabar coast. Similarly, supporting New Delhi's proposal for disaster-resilient infrastructure, Australia, Japan, and the United States became founding members of the Coalition for Disaster Resilient Infrastructure in 2019.
The coming together of the Indo-Pacific alliance in the form of QUAD is an opportunity for India to maximize its strategic interests in terms of its security environment in the Indian Ocean. While the other nations of the QUAD as well as the Indo-Pacific region may have their primary interests in the Pacific Ocean, there would be a need for convergence of interests in an effort to present a counter to the Chinese threat.
India's partnerships today are built on converging strategic interests and a new security environment. As such, the Indo-Pacific is now a theatre of opportunity to increase India's profile and role globally. As New Delhi continues to move forward with its Indo-Pacific initiatives, it will face further geopolitical challenges, balancing its old and new partnerships. The Indo-Pacific will continue to provide an opportunity to India, to raise its profile and secure its strategic interests, but the government must be open to new ideas and frameworks such as a burden-sharing model centred on issue-based partnerships. Such an approach will allow India to maximize its limited resources and capacities to better prepare for a new security environment. 
There are also some different interpretations in some analysts' minds that with the coming up of AUKUS, will the relevance of QUAD diminish. It, therefore, needs to be understood that, whereas, AUKUS is a military alliance on the contrary QUAD is a group of like-minded countries based on a mutual agenda of cooperation on regional challenges to ensure peace, prosperity, and stability in the region. From India's perspective, AUKUS is neither relevant to the QUAD, nor will it have any impact on its functioning. 
Conclusion
Therefore, it is fairly evident that the present geopolitical situation in South Asia is fraught with major irritants that could destabilise the region. China has also shown its intention by flexing its muscles in the Indo-Pacific by initiating the Regional Comprehensive Economic Partnership (RCEP) which includes 15 Indo-Pacific nations with a collective GDP of 15 trillion dollars. It has also initiated a Favoured Trading Agreement (FTA) within the members of this grouping. In addition, the BRICS and the SCO grouping have also come about. India happens to be a member of all of these. Therefore, even a crystal gazer would find it difficult to predict a scenario wherein, the Indo-Pacific strategy could pan itself out. Only time will tell.
Title image courtesy: https://www.drishtiias.com/printpdf/eu-indo-pacific
Disclaimer: The views and opinions expressed by the author do not necessarily reflect the views of the Government of India and Defence Research and Studies