Tons of Fibre Optic Cables (FOC) are currently being laid beneath the oceans to enhance the digital connectivity between continents and islands. Next-generation data centres are likely to come up at sea due to space constraints on land. Digital infrastructures sub-sea are vulnerable to fishing and shipping activities. Natural calamities like cyclones and tsunamis can also play a spoilsport in disrupting and damaging the sub-sea cables and data centres. Maintaining marine ecosystems is also paramount while setting up deep-sea digital infrastructure. The heat dissipated from data centres should not affect marine organisms.
Since more than half the world's population lives within 120 miles of the coastline, it is economical to build such an infrastructure along the coastal waters. Security of sub-sea installations is always a challenge around archipelagos since they are unevenly clustered. Restoration of damaged infrastructure is cumbersome and very expensive. Apart from instituting fail-safe mechanisms, there is a need to enlighten the seamen and fishermen folks by serving them with periodic safety directives.
Challenges for Underwater Digital Infrastructure
Connectivity across the continents has increased manifold. Sea bed cables now carry around 97 % of all intercontinental digital communication. Around 213 independentcable1 systems traversing 5,45,018 miles of fibre are being laid across the globe so far. The number of sub-sea fibre cables across the continents has increased manifold in the last two decades. Many nations are currently planning to move their digital infrastructures including data centres to the sea to counter global warming. These centres are developed inside watertight containers and are designed to keep at the sea bed for years. The safety of such installations is very important since the data stored in the servers could cost millions.
The rubbing of cables with seabed rocks and dragging by ship anchors while heaving could damage the cables. There are many reports of sabotage on underwater infrastructures by non-state actors and agencies. This deceitful activity could keep many island nations deprived of minimal bandwidth for weeks. Criminal activities like 'theft of cables' are also on the rise. Even cyber attacks on underwater FOC control stations have become very common. Since sub-sea infrastructures are bound to increase in the coming decades, additional precautions are to be taken while building these infrastructures. Every stakeholder nation should have disaster mitigation and recovery plan in place for the restoration damage of to underwater infrastructure.
The submarine fibre cable map2 provided by the telecommunications market research and consulting firm 'TeleGeography' gives the updated layout of cables across the continents. The Indo-Pacific region is one of the most cluttered areas where we could see bottlenecks with high concentrations of fibre cables being laid out across the oceans/seas. There are various agencies that keep records of submarine cables and associated breakdowns and faults. Submarine Telecoms Forum4 is one agency that monitors and records the data pertaining to breakdowns across the continents.
In India, Chennai and Mumbai are the main landing points of submarine fibre cables. Recently, a 2300 km 400 GBPS Chennai-Andaman & Nicobar Islands Cable3 has been commissioned by NEC Corporation India and BSNL connecting the seven islands to mainland India. This project has shown the possibilities of extending data connectivity to islands across the Indo-Pacific. A similar project is being planned for Lakshadweep also.
Data centres are the new entrant into the underwater digital infrastructure. Microsoft5 has proven the feasibility of setting up underwater data centres at sea as a solution to global warming. In another 10 years, data centres may move from land to sea. Providing security to these digital infrastructures will be a great challenge and is unavoidable since the stakes are very high. Damage to such containers would incur data loss worth millions. There should be a clear maritime policy to secure these installations. Since 97% of our digital communications take the sea route, it makes sense to terminate these cables at 'wet data centres' prior to the landing area.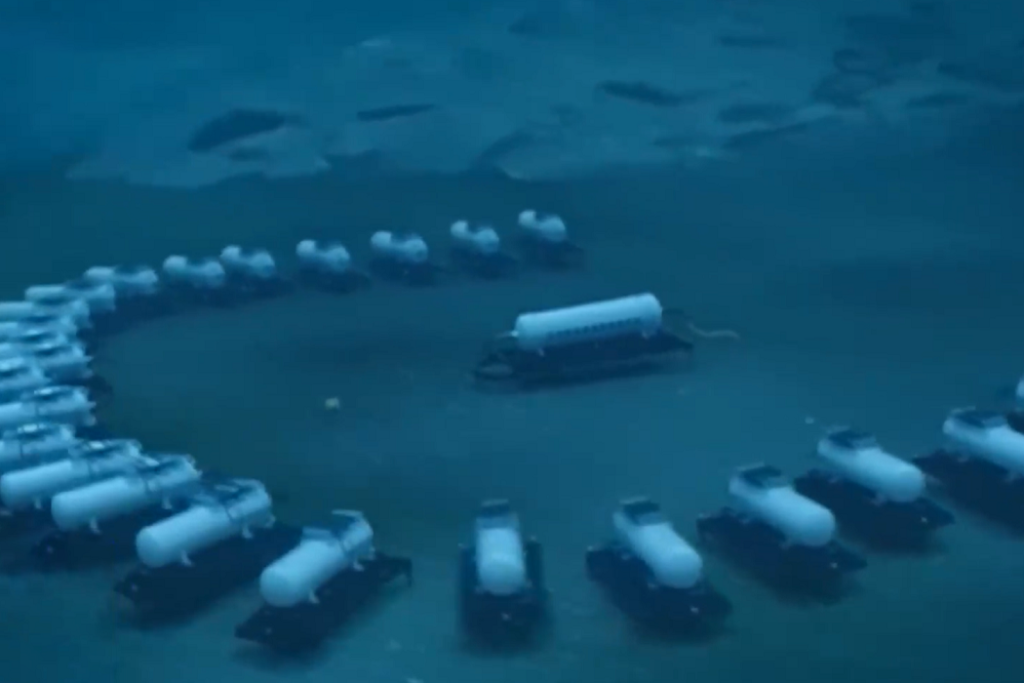 Securing Fibre Optic Cables
International Cable Protection Committee Ltd. (ICPC)6 is an independent committee having more than 170 members in over 60 countries. It is a premier international submarine cable authority that gives guidance and helps with submarine cable security and reliability to its members. More than 200 underwater cable damages happen every year on average. The underwater cable operators SubCom, Alcatel Submarine Network, and Global Marine Systems Ltd.7 had published statistics on cable faults based on their individual datasets. Anchor drag is responsible for 43% of damages whereas Fishing amounts to 33 % of cable destruction. The big challenge for the submarine fibre optic data cable is to facilitate the protection and to instil redundancy against all possible damages and sabotages.
Failure of sub-sea digital fibre cables can bring down the connectivity between continents and islands. The internet speed may come down drastically. Laying down alternate cables to have multilevel redundancy can be the best solution to maintain the broadband speed. These redundant cables should be laid apart and can be powered up when a requirement arises.
Laying the cable in an appropriate safe manner could prevent damage to a larger extent. Leaving more length of loose cable underwater could withstand the drag caused by an anchor or fishing net to a larger extent. Keeping the cable at a larger depth in deep seas can also prevent disasters. Proper marking of cable routes can be given to prevent humans from undertaking any activities around the cable run. Avoiding rock bottom sea-beds could prevent the aberration of cables leading to damage.
Patrol and Drone Surveillance
Cables are generally damaged by external elements that are not aware of their existence. If the region is prone to transit traffic and fishing activity, there is a huge possibility of accidents leading to damage. Frequent patrol and surveillance could caution and prevent the seamen from getting into accident-prone areas. Though this is an expensive affair, the cost that might incur in the restoration of fibre cable may over-weigh the cost of patrolling. In areas prone to sabotage, automated surveillance can cut the cost drastically by using dedicated deck-borne drones. This would certainly reduce the incidents due to sabotage.
Ducting in the seabed is certainly a costly proposition but could reap benefits in the long run. The initial cost of laying duct is humongous. These ducts can be reused for laying cables multiple times. Under shallow water and near landing areas ducting is necessary to protect the cable from anchoring and fishing nets. For short distances, this can be executed without much expense. When it comes to the high seas, laying a duct is humanly impossible and can be avoided. Ducting can be placed below as well as above the sea bed. Polyurethane8 makes ducts durable, light and cost-effective. Flexible armoured cables are always preferred underwater to safeguard aberration and shear. Apart from ducting, this layer of protection would give added security to the cable. This will also give much-needed protection from all-natural calamities also. The cable9 designed with armour has a heavy shield of strong steel wires. Steel wire shielded armoured cables are deployed in shallow water regions whereas synthetic lightweight material armour10 is suited for very deep waters sections.
Cable Protection Systems (CPS)
Depending on the seabed conditions and the depth of deployment, there are various submarine cable protection systems11 in place to protect cables. End restrictors, bend stiffeners, protecting and ballasting shells and split pipes are used judiciously to protect the cables. Bend restrictors are applied to ensure the bending radius of the cable. It ensures maintaining the minimum bending radius defined by the manufacturer. Bend stiffeners are specially designed and manufactured for use in dynamic applications to prevent failure due to cyclic loading which ensures protection cables from fatigue and over-bending.
Strength and Routing of Cables
We do have dedicated cable ducts along our roadways and railways. Likewise, we can have dedicated cable run zones across the seabed, which can be earmarked. Specific instructions can be given to the vessels operating in this region to be cautious while crossing these areas. Adequate warnings can be displayed by floats moored in the region. Where the cable density is more (offshore wind farms), a restriction can be given for the movement of vessels through the region. There is always a trade-off between the cable weight and the strength of the cable. Cable strength needs to be ascertained prior to deployment by considering the depth, traffic density of vessels, underwater terrain, maximum sea state, probable natural disasters, and ocean current and climatic conditions.
Warning System on Board Vessels
Warning Systems can be developed and installed onboard ships on the bridge linked to GPS. Since the lat-log positions of sub-sea cable run are available in the public domain, it is possible to develop warning systems which can be integrated into the bridge top so that the ships/ vessels can avoid anchoring and fishing activity over the cable run. These systems are yet to be developed and sub-sea cable providers can develop such warning systems for bridge tops/ applications linked to sat-phones. The information/data on the installation of new fibre cables can be updated automatically. These systems can be made mandatory for all vessels across the globe.
The status of sub-sea cables in vulnerable areas needs to be monitored periodically for their condition. Timely surveillance and detection of damage could avoid breakdowns and save money being spent on restoration. Robotic underwater vehicles like Remotely Operated Vehicles (ROV) and Autonomous Underwater Vehicles (AUV) can be used for 24X7 sub-sea surveillance. These vehicles can be operated in autonomous as well as semi-autonomous modes and are ideal for shallow water. Docking stations can be constructed for the automatic docking and charging of these vehicles. Periodic surveillance can be deployed at places where the cables are vulnerable.
Data Centre Integrated with Cable Landing System (CLS)
Both wet and dry data centres will coexist in the coming decades. Data centres are likely to get integrated with the underwater CLS12 in future, which would bring down a host of security issues. Submarine CLS is sandwiched between the sub-sea fibre cables and Submarine Line Terminal Equipment (SLTE). The constraints in linking up urban data centres to sub-sea data cables would drive providers to convert the existing dry centres to wet in future. Demarcated no-go zones are to be created for added security for such wet data centres in future.
Instituting Load Balancing to Avoid Traffic Jam
Optimising data traffic is a major element for the effective utilisation of available bandwidth. Balancing the traffic load among the cables could avoid weekend and seasonal traffic jams. Data choking is very common and could make the cable unfit for data transfer. The service providers should share their resources and re-route the traffic accordingly to mitigate choking.
Glass fibre Reinforced Plastic (GRP) Sub-sea Protection Systems
The majority of damage that happens to the cables is structural and that is too near to the landing area/shore. There are a host of GRP13-based protection systems available for protecting the cables from damage. These can be deployed at every landing station as per requirements. Sub-sea processing structures/ containers, sub-sea hatches, cable support structures and protection covers can be currently deployed on a required basis.
Acoustic Underwater Sensors for Sub-sea Cable Protection
Acoustic sensors are the ones commonly used for monitoring the underwater environment for long detection ranges. Towed Synthetic Aperture Sonar (TSAS) and Side-Scan Sonar (SSS) could be used for mapping the seabed of the cable location with high resolution and for identifying cable tapping/cutting. When the cable is buried, Sub Bottom Profiler (SBP) could also be used for the same purpose, as they use frequencies that can penetrate the seabed and map its first layers. Diver Detection Sonar (DDS) is the most efficient acoustic sensor for divers and underwater vehicles for detection in shallow waters. Acoustic Doppler Current Profilers (ADCP) could be installed on any platform to measure turbidity being generated by underwater threats and moving objects. One of its main characteristics is that it has multiple slant beams to cover significant areas across the water column. Towed array active system could be used for the detection of large underwater vehicles. Permanent arrays of hydrophones can also be installed on the sea bottom to detect underwater noise and threats.
Non-Acoustic Sensors for Sub-sea Cable Surveillance
Magnetic sensors could be used for the detection of movement of possible dangerous ferrous objects like anchors and fishing trawls. Optical sensors have short ranges of up to 20 meters. Underwater video and still cameras could be used for closer inspection. Oceanographic sensors are used to detect anomalies in oceanographic variables, which could potentially and indirectly indicate the sabotage using mini-submarines, ROVs, AUVs etc.
Cyber attacks on Control stations
The Network Management Systems (NMS) used for maintaining connectivity of fibre cables are web-based systems relying on readily exploitable HTTP and TCP/IP protocols and associated operating systems, making them extremely vulnerable to cyber-attacks. Once a hacker gains access to any of the weak network ports of NMS14, he could get full access to the data being transmitted over the network and could delete, disrupt or shut down the data flow at will. Adequate firewalls are to be built for the system that governs the management of fibre cable connectivity and trafficking. Hardening the software ports/ operating systems and installation of IDS are absolutely necessary to counter these attacks.
Disaster Prediction, Prevention and Recovery Plan
There is a need to draft disaster recovery plans for every kind of possible break downs and disaster for the stakeholders associated with nations. Data is very critical for analytics to maintain the infrastructure in a predictive manner. Bringing all associated activities under one umbrella/ agency is more sensible. Sub-sea capacity building can happen only if security systems are in place.
Reaching out to Seamen and Fishing folks
Humans are the main cause of damaging underwater cables. Making them aware of the existence and relevance of cables underwater would certainly help them to avoid those areas where the cables are laid. The local population can be networked to safeguard the cable from damage.
Way Ahead
The world economy is bound for higher growth in the coming decades. Island nations are dependent on connectivity through the sea for their survival. Many digital infrastructures are likely to get relocated into the sea in the future. The security and upkeep of these installations could become a major challenge in the coming years. There is a need to initiate a concerted effort by nations to govern these infrastructures and to expand seaward in a planned manner. Creating awareness of the security of sub-sea infrastructure among the stakeholder nations is the first step towards formulating a comprehensive plan for protection. Generating and analysing the data on the incidents damaging these installations would certainly help us make predictions and foresee disasters and mitigate them well in time.
Disclaimer: The views and opinions expressed by the author do not necessarily reflect the views of the Government of India and Defence Research and Studies
Title image courtesy: The Hans India
References
Underwater Communication Cables: Vulnerabilities and Protective Measures Relevant to India, Part 1, by Sohan Agarwal and Vice Admiral Pradeep Chauhan https://maritimeindia.org/underwater-communication-cables-vulnerabilities-and-protective-measures-relevant-to-india-part-1/
NEC Completes submarine cable systems to Andaman and Nicobar by Paul Mah https://www.datacenterdynamics.com/en/news/nec-completes-submarine-cable- system-Andaman-and-Nicobar-islands/
https://subtelforum.com/category/cable-faults-maintenance/
Microsoft finds underwater data centres are reliable, practical and use energy sustainably by John Roch https://news.microsoft.com/innovation-stories/ project-Natick-underwater-datacenter/
Sensors to Increase the Security of Underwater Communication Cables: A Review of Underwater Monitoring Sensors by Dimitrios Eleftherakis https://www.mdpi.com/1424-8220/20/3/737/htm
The Latest Advancements in Submarine Cable Protection By Raletsa Peycheva https://www.windsystemsmag.com/the-latest-advancements-in-submarine -cables-protection/
Armoured Submarine Cable Google Patent https://patents.google.com/patent/ EP0173402A1
The era of open submarine cable systems and open CLS by Suvesh Chattopdyaya https://www.submarinenetworks.com/en/insights/era-of-open-submarine-cable-systems-open-cls
https://www.csub.com/products?gclid=CjwKCAjw9r-DBhBxEiwA9qYUpZRs2AiCobwKWM-0Sh1J3K5KMp3m_sMklPjMw_mrNwbpGqGXz0Ji-hoCgY4QAvD_BwE