The coastal ecosystem is a space where the land meets the ocean and which includes diverse habitat types such as mangroves, coral reefs, seagrass, estuaries, backwaters etc. It provides numerous benefits and services that include provisioning services (fisheries); regulating services (carbon sequestration, and cultural services (tourism and recreational). It is pertinent to note that a number of services are essential for the purpose of climate adaptation and resilience along the coasts, which includes safety from storm surge, sea-level rise, prevention of erosion along shorelines, habitat provision for a variety of endangered marine species, and of course the food security for a large number of coastal communities around the world. Today, these ecosystems are facing challenges caused by human activities have become a serious environmental issue and the result is global warming, Sea-level rise has accelerated in recent decades due to increasing ice loss in the world's polar regions (melting of glaciers) and the results are tropical cyclones, deadly storm surges and coastal hazards such as flooding, erosion and landslides increasing frequency of heat waves, thereby affecting the coastal ecosystems.
A report by the United Nations International Organization of Migration (IOM) predicts 200 million to 1 billion migrants by 2050. Additionally, according to the Intergovernmental Panel on Climate Change Sixth Assessment Report 2022, small island nations such as the Maldives may become completely uninhabitable. It is important to note that, the world faces unavoidable multiple climate hazards over the next two decades with global warming of 1.5°C (2.7°F) and as a consequence, there is a rising debate regarding the term 'climate refugee' or 'environment refugee' which revolves around the fair representation of people who migrate because of climate-related issues or disasters. Moreover, it is crucial to note that, the term 'climate refugee' has not been acknowledged or legally recognised in any international agreement or treaty but is recognized by the international community as a growing concern.
It is to be noted that the coastal communities are the worst sufferers as they lose their livelihood, lands, and houses and the seawater has contaminated both surface and groundwater. Additionally, in the low-lying Pacific atolls such as the Marshall Islands and Kiribati rising sea levels have made every high tide a dangerous event. Moreover, the regular floods (Sea water) washing through the villages caused great damage to houses, damaging the crops and poisoning the drinking water.
The Climate Refugees: A Ghost Term
In International customary law, the scope of a refugee has been narrowed down to the references to violence and conflict and not the environment. The International community needs to prepare itself for the displacement of communities and societies due to climate change.
It is pertinent to mention that the problem must be broadly acknowledged, with clearly defined parameters and provisions for climate refugees and having said that no multilateral strategy or legal framework currently exists to account for climate change as a driver for migration.
Coastal Regulation Zones, Notification 2018
As per the 2011 notification CRZ-1 includes the most ecologically sensitive areas like mangroves, coral reefs and sand dunes, and intertidal zones. It was off-limits for tourism activities and infrastructure development, except for defence, strategic and rare public utility projects.
The latest notification further categorises CRZ-1. It allows eco-tourism activities such as mangrove walks, tree huts, nature trails, etc. in eco-sensitive areas, demarcated as CRZ-IA. Sea links, salt harvesting and desalination plants and roads on stilts are also allowed in CRZ-IA.
The controversial land reclamation, in which new land is created from oceans or lake beds and is known to have strong impacts on coastal ecology, has been allowed in intertidal or CRZ-IB areas, for ports and sea links.
In CRZ-II, a substantially built-up area, project developers can now increase the floor area ratio or floor space index, and build resorts and other tourism facilities. A large part of South Mumbai falls in this category.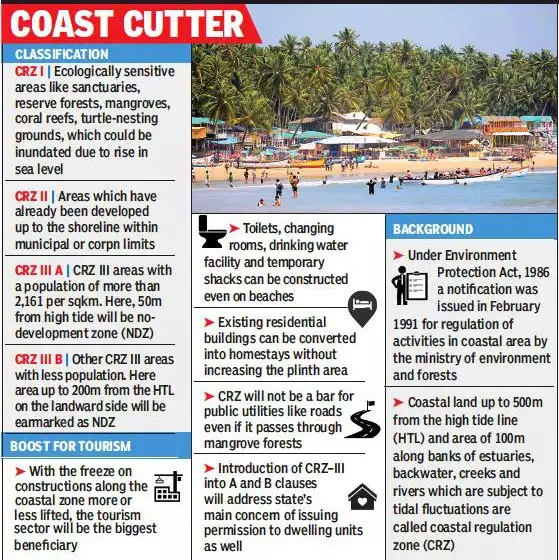 The latest notification drastically shrinks NDZ to 50 m from HDL in densely populated areas (where the population exceeds 2,161 per sq km as per the 2011 Census). This technically allows resorts, hotels and tourism facilities to be built right up to HTL.
Providing housing facilities just 50 m from the coastline would expose the inhabitants to severe weather events, that too without any buffer.
CRZ-IV, which includes the shallow belt of coastal waters extending up to 12 nautical miles, is not only a crucial fishing zone for small fishers but also bears the maximum brunt of waste from offshore activities, such as oil exploration, mining and shipping. The 2018 notification allows land reclamation for setting up ports, harbours and roads; facilities for discharging treated effluents; transfer of hazardous substances; and construction of memorials or monuments.
It is important to note that CRZ 2018 overrules the concerns of 171 million, or 14% of the population living in coastal districts. Over 12 million of them depend on fishing. The committee under MS Swaminathan set up in the aftermath of the tsunami, went as far as suggesting a land rights recognition law along the lines of the Forest Rights Act, 2006 for the communities who subsist on the coastal areas based on their customary rights, but unfortunately, The suggestion was never implemented.
Moreover, CRZ-III areas are the ones where traditional communities live and subsist on natural resources. While the notification changed the land use in CRZ-III areas to bring in tourism, its impact on the livelihood of local communities has not been taken into account. It is to be noted that, Climate change is likely to contribute substantially to food insecurity in the future, by increasing food prices and reducing food production. Additionally, Competition for land may increase as certain areas become climatically unsuitable for production and heat waves (periods of extremely high temperature) are likely to become more frequent in the future and represent a major challenge for agriculture.
Extreme periods of high temperature are particularly harmful for crop production if they occur when the plants are flowering as if this single, critical stage is disrupted, there may be no seeds at all. In animals, heat stress can result in lower productivity and fertility, and it can also have negative effects on the immune system, making them more prone to certain diseases.
The Way Forward
Legalizing the definition of climate refugees will require substantial support from the international community and the Climate migrants must be recognised in a legally binding fashion. Therefore, the 1951 Refugee Convention must be amended properly to define climate migrants as refugees. The countries need to reach an agreement that allows planned relocations/ habitats for migrants across states and the G20 can come together and agree on sharing the burden of hosting displaced populations. Moreover, the countries which are unable to provide asylum may compensate through additional funding, training facilities, and capacity building to tackle the crises of climate change. G20 countries should play an essential role at the global, regional, and national levels in promoting policies regarding climate migration governance. In addition to that, the education and skill/ capacity development of climate migrants must be the foremost priority for their effective rehabilitation.
There are some unanswered questions which we as human beings ask ourselves, why there is a dearth of climate literacy and why it is not a part of the study curriculum? How climate Activism is still not the mainstream in our region even though we are front-line nations. What about the rights of Climate affected people if in case the low-lying islands are completely submerged? Will they be stateless? If yes, where they will go? How they will survive? if there is no Law for them.
References
1. MoEF, https://parivesh.nic.in/Notifications.aspx?id=CRZ
2. World Bank report 2021, https://climateknowledgeportal.worldbank.org/sites/default/files/country-profiles/15816-WB_Kiribati%20Country%20Profile-WEB.pdf
Disclaimer: The views and opinions expressed by the author do not necessarily reflect the views of the Government of India and Defence Research and Studies
Title image courtesy: CheapOair