In 2019, comedian-actor Volodymir Zelenskyy is elected president of Ukraine. In his campaign, Zelenskyy1 vowed to make peace with Russia and end the war in the Donbas. However, his equation with President Trump for assistance failed and in the USA, it led to the first impeachment in December 20192. The honeymoon with the US apparently failed. However, the ostensible request from Trump to investigate into energy company Burisma and the Bidens3 that caused the impeachment motion turned to Zelenskyy's favour when Biden became president. In April 2021, Russia sent 100000 troops to its border with Ukraine, claiming routine military exercise4. By November, Russia said it has withdrawn the bulk of its troops, but tens of thousands remain5. By December 2021, President Biden was already talking tough with President Putin about possible sanctions6. In January and early February 2022, a hectic diplomatic parley took place between the USA, Russia, EU, and Ukraine. On February 24th, Russian troops formally launched an offensive into Ukrainian territory. 
In the two weeks that have gone by till now, Germany in particular has been reluctant to show its support for NATO intervention in as many ways as was possible. Alice Weidel, the leader of the Alternative for Germany in the Bundestag from 2017 spoke of the problem as having its origins in the west and in Ukrainian thinking7. Though she has been criticised for her views, the thought process of a sitting MP representing a political party shows that not everyone is convinced of the accusations against Russia. Similar divisions in opinion are also visible in Spain over the crisis8. In France, the heavyweight in Europe alongside Germany, with the Presidential Elections due in April, the opinions are as divided as they could get9. For example:
Far-right leader Marine Le Pen, meanwhile, leans toward privileging relations with Moscow. In her opinion, France's energy interests (20 percent of France's gas come from Russia) and the shared fight against Islamism both plead in favour of maintaining good relations between Paris and Moscow. The committed Europhobe maintains that the European Union, in lending its support to Ukraine, played a role in exacerbating tensions in Eastern Europe. "Whether we like it or not, Ukraine belongs to the Russian sphere of influence," The National Rally candidate told Polish media outlet Rzeczpospolita.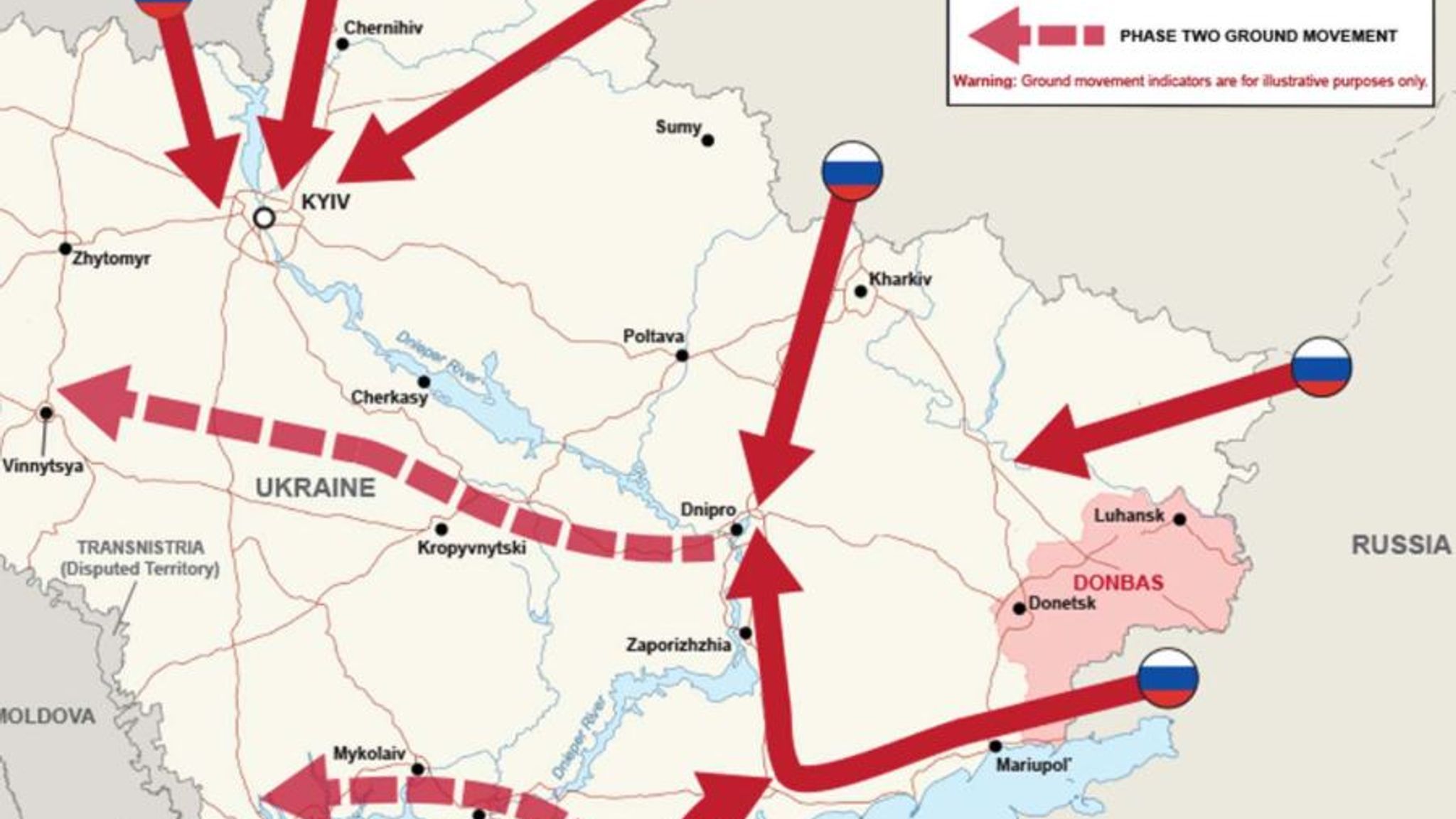 The Russian point of view is legitimate: it is not acceptable to envisage Ukraine entering NATO, far-right presidential hopeful Éric Zemmour told LCI.
Political historian Christian Delporte provides nuance to the echo between France's political extremes. "While the extremist parties do espouse stances that are very close, their motivations are nevertheless different," Delporte, a professor of contemporary history at the University of Versailles, told FRANCE 24. "Mélenchon's position is in large part related to his anti-Americanism, whereas Marine Le Pen and Éric Zemmour, both nationalists, are more willing to lend their support to authoritarian regimes," he explained. "In contrast, moderates, which subscribe to the logic of NATO, defend Western positions aimed at punishing Russia".
Even in the United States, Henry Kissinger10 way back in 2014 during the Crimean crisis, was forthright in expressing his views said: Far too often the Ukrainian issue is posed as a showdown: whether Ukraine joins the East or the West," Kissinger writes in an opinion article in the Washington Post. "But if Ukraine is to survive and thrive, it must not be either side's outpost against the other — it should function as a bridge between them.
It is necessary to understand why these voices appear to be getting drowned in the clamour for sanctions against Russia, the withdrawal of SWIFT from servicing Russian banks, the spate of announcements by the World Bank, and all other such measures, need to be heard.
War has never solved any problem in the known history of mankind. No war is justified however noble the cause for it may be. Especially in a world that has emerged out of the Bi-Polar world order and is intricately connected by the process of globalization, the right and wrong for war are to be evaluated on the merits of its impact on those who bear the burden of such war, not the ones who decide to go to war – the common people. From this perspective, it is necessary to look at why mature diplomacy beyond myopic considerations of ideology is necessary. To do so in the case of Russo-Ukrainian conflict, the following considerations are relevant11,12 :
European Union consists of 27 countries hosting a population of 447 million.
Russia is the origin of 26% of the EU's oil imports and 40% of the EU's gas imports. Energy price volatility directly affects the volume of bilateral trade.
Total trade in goods between the EU and Russia in 2020 amounted to €174.3 billion. The EU's imports were worth €95.3 billion and were dominated by fuel and mining products – especially petroleum (€67.3 billion, 70.6%), agriculture and raw materials (€4.3 billion, 4.5%), chemicals (€4.1 billion, 4.3%) and iron and steel (€4.0 billion, 4.1%). The EU's exports totalled €79.0 billion. They were led by machinery and transport equipment (€35.0 billion, 44.1%), chemicals (€16.7 billion, 21.1%), and manufactured goods (€7.6 billion, 9.6%) as well as agriculture and raw materials (€6.9 billion, 8.7%).
Two-way trade in services between the EU and Russia in 2020 amounted to €27.7 billion, with EU imports of services from Russia representing €8.9 billion and exports of services to Russia accounting for €18.8 billion.
The EU is the largest investor in Russia. In 2019, the EU's outward foreign direct investment (FDI) stock in Russia amounted to €311.4 billion, Russia's FDI stock in the EU was estimated at €136 billion.
The EU is Russia's biggest trade partner, accounting for 37.3% of the country's total trade in goods with the world in 2020. 36.5% of Russia's imports came from the EU and 37.9% of its exports went to the EU.
Germany remains the largest trading partner of Russia with over $ 28 mn USD, followed by other EU members other than UK that in any case has done BREXIT
Ukraine is in a critical position. In the erstwhile USSR format Unkraine for pumping gas to EU and receiving $ 2 bn USD in royalties. With Nord Stream 1 & 2, Russia is in a position to stop paying royalties to Ukarine and continue with Nord Stream project.
With all the sanctions and those upcoming ones, it is apparent that the war in Ukraine and the NATO-USA embroilment in Ukraine will have only two distinct effects. First, the fuel price has reached over $ 120 USD per barrel, the citizens of Europe will pay more dearly for their ordinary lives. Political gains & losses apart, as is in every conflict situation, the common citizens will pay the price for political decisions.
Second, the EU is already burdened with millions of refugees from West Asia, as a result of decades of intervention by the west into its affairs. That Cold War contestations underline the troubles in West Asia needs no incisive analysis. Now, with over a million refugees from Ukraine, the picture becomes grimmer. Apart from East European countries like Poland, Hungary, and Bulgaria that will bear the cost of humanitarian relief, the whole of Europe will share that cost in an economic environment affected by the factors mentioned above.
With the ideological divides of the Cold War already dead for there is very little to bind the world (or divide) based on the convictions of ideology, we are looking for a world that is more connected through the aspirations of people who want peace and an opportunity to pursue the necessities of life as they perceive it.
Considering the implications of continuing the war on Russia in the economic sphere, it is necessary that Europe looks upon the Russo-Ukraine conflict as an opportunity to embark upon diplomatic solutions to conflicts that may as well serve as an example of consummate European diplomacy. Continuing the current support to the sanctions is also an option if the EU is prepared to pay the inevitable price.
Title image courtesy: https://www.wilsoncenter.org/blog-post/
Disclaimer: The views and opinions expressed by the author do not necessarily reflect the views of the Government of India and Defence Research and Studies
References:
https://en.wikipedia.org/wiki/Volodymyr_Zelenskyy
 Cornish, Audie (Dec 06, 2019). Why The Trump Decision To Delay Aid To Ukraine Is Under Scrutiny. https://www.npr.org/2019/12/06/785349739/why-the-trump-decision-to-delay-aid-to-ukraine-is-under-scrutiny
 Sullivan, Becky (Feb 24, 2022). Russia's at war with Ukraine. Here's how we got here, https://www.npr.org/2022/02/12/1080205477/history-ukraine-russia
YURAS KARMANAU (November 3, 2021). Ukraine now says 90,000 Russian troops not far from border. https://apnews.com/article/europe-russia-ukraine-f356c933c1ac8993aee383ed30d1e017
Naylor, Brian (Dec 06, 2021). Biden will lay out in a call with Putin the U.S. response if Russia invades Ukraine. https://www.npr.org/2021/12/06/1061827853/biden-putin-video-call-u-s-response-if-russia-invade-ukraine
Pledge Times (Feb 27, 2022). Ukraine war: special session in the Bundestag – Weidel sees "the problem" in Kiev https://pledgetimes.com/ukraine-war-special-session-in-the-bundestag-weidel-sees-the-problem-in-kiev/
JOSÉ MARCOSPAULA CHOUZAMIGUEL GONZÁLEZ (Jan 24, 2022). Ukraine crisis shakes up domestic politics in Spain, exposing division over NATO plan. https://english.elpais.com/spain/2022-01-24/ukraine-crisis-shakes-up-domestic-politics-in-spain-exposing-division-over-nato-plan.html 
France24 (Feb 02, 2022). Ukraine crisis highlights stark divisions among France's presidential candidates. https://www.france24.com/en/europe/20220204-ukraine-crisis-highlights-stark-divisions-among-france-s-presidential-candidates
NBC News (March 6, 2014). Henry Kissinger Weighs in on Ukraine Crisis. https://www.nbcnews.com/storyline/ukraine-crisis/henry-kissinger-weighs-ukraine-crisis-n45516
Eurostat (n.d.). Russia-EU – international trade in goods statistics. https://ec.europa.eu/eurostat/statistics-explained/index.php?title=Russia-EU_%E2%80%93_international_trade_in_goods_statistics
ZEU (26 May 2021). EU-Russia Trade. https://ec.europa.eu/trade/policy/countries-and-regions/countries/russia/