Environmental protection and climate change have become an additional area of concern for the Armed Forces.
The Indian Armed Forces have embraced a paradigm shift in environmental management and protection. Though the primary role of our Armed Forces is to safeguard the nation and to protect the citizens against internal as well as external aggressions, environmental degradation and climate change have become an additional challenge for them. It is desired to have an appropriate response mechanism at the working level to counter these threats.
Introduction
"You have stolen my dreams and my childhood with your empty words", at a UN Climate Action Summit in New York City in 2019, Greta Thunberg put it plainly to the world leaders.
Climate change is a very relevant issue across the world and needs urgent attention from levels. The challenges due to climate change are increasing and its impacts are becoming more apparent view the scale and frequency of natural disasters. The Armed Forces have embraced climate change as a critical area of the security paradigm.
In 2017, the Joint Doctrine of the Indian Armed Forces outlined that "Environmental security has always been dealt with by the State and eco-system disruption, energy issues, population issues, food-related problems, economic issues of unsustainable modes of production and civil strife related to Environment. The fallout at times requires security responses from the State."
From time immemorial, the Indian Armed Forces have always done a commendable job, when called to aid civil authorities, especially, in the wake of natural calamities and man-made disasters. They have shown the willingness to step up and support the country's environmental objectives and mitigate security risks related to the environment. Environmental protection and regulation is no more a subject under the Civil Authorities and the Governments. The Forces are also the stakeholders in dealing with climate change, as they are well qualified to perform this projected role by virtue of their infrastructure, training and capability to achieve the desired results.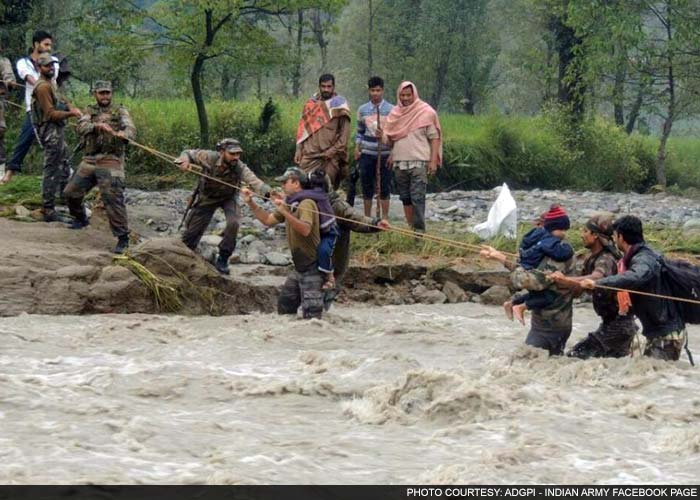 Major Initiatives by Armed Forces
The Indian Armed Forces have always been at the forefront of Human Assistance and Disaster Relief (HADR) Operations. It has played an active role in conducting several HADR operations dating as early as 1967 during the Koyna Earthquake and more recently the Himalayan Tsunami (2013), Kashmir floods (2014), Cyclone Titli (2018), Cyclone Tauktae and Yaas (2021).
The priority area for the Indian armed forces is to comply with the government policies on environmental protection. Climate change is emerging as one of the greatest challenges to humanity, firm steps have to be taken to improve its sustainability and efficiency. Let us see some of the initiatives taken by Indian Armed Forces.
Afforestation on Defense lands and Degraded Areas – In the last three decades, Ecological Task Force (ETF) battalions have planted and cared for over 6 crore saplings and covered more than 70000 hectares of land, with a 70-80% survival rate. The Territorial Army's ETF was first set up in 1982, as the world's first ecological battalion. From saving deforested hills to transforming abandoned lands into lush green forests, the ETF has done it all!
Introducing Renewable Sources of Energy – To contribute towards achieving India's energy and environmental goals, the Armed Forces are coming up with ways to get rid of dependence on the use of fossil fuels in operational areas. For instance, the Indian Navy is demonstrating its commitment to the Indian Navy Environment Conservation Roadmap (INECR) by completing a 3-megawatt plant at the Indian Naval Academy (INA) in Ezhimala, Kerala, in southwest India and 2-megawatt plants at Naval Station Karanja, Uran, near Mumbai, and at Kalinga naval station near the east coast city of Visakhapatnam. Similar, the Indian Army recently inaugurated the first green solar energy plant in Sikkim, seeking to harness renewable energy for the benefit of its troops working in remote conditions.
Waste Management Initiatives – The Indian Armed Forces has undertaken a large number of initiatives to manage the waste in operational areas. For instance, in 2019, the Indian Army took an initiative to remove 130 tonnes of solid waste from Siachen Glacier to protect its ecosystem. Biogas Plant, Compost Pits, Vermiculture, Paper Recycling Machine and Composter machine are some steps taken in the Waste Management domain by the Indian Navy.
Development of Eco-friendly Technology – The Defence Research and Development Organisation (DRDO) has taken various initiatives to develop clean, eco-friendly technologies to deal with climate change. For instance, in January 2021, DRDO and Maharashtra Metro Rail Corporation (MAHA–METRO), agreed to work together, to conserve water and protect the environment by installing DRDO's eco-friendly bio-digester units (a non-sewered sanitation technology) in its facilities. On the same lines, the Indian Navy showcased a warship that runs entirely on biofuel at the 2016 International Fleet Review. In 2019, the Indian Air Force, after months of exhaustive ground and flight trials, decided to use biofuel for its transport fleet and helicopters following the clearance given by the Centre for Military Airworthiness. The Tri-services are chalking out cutting-edge technology and state-of-art equipment, which are energy efficient and have a low carbon footprint.
Conclusion
Climate change and the associated disasters are affecting the day to day life of our citizens. The Armed Forces can always contribute towards the protection of nature and the environment during peacetime. The forces need to optimise their resources and efforts to deal with these new challenges. Armed Forces have already contributed in areas such as afforestation, use of renewable energy sources, mitigation of pollution, awareness creation in using sustainable resources. They have an existing value system, an overarching strategy, leadership support and mobility to exploit the resources in a sustainable manner, which could be utilised for the good of environmental sustainability in the coming decades. Let them become the role models, the rest will follow. Jai Hind
Title Picture courtesy: https://www.financialexpress.com/defence/
Disclaimer: The views and opinions expressed by the author do not necessarily reflect the views of the Government of India and Defence Research and Studies