New Afghanistan under the Taliban is no different from that of a decade ago
Afghanistan's future is now doomed. As President Ashraf Ghani ran away from the country, taking along with him bundles of foreign currency after the Taliban sealed a nationwide military victory, leaving behind a battered, harrowed and bewildered nation, Mullah Abdul Ghani Baradar, the co-founder of the insurgent group is likely to become the new President of Afghanistan, as he landed in Kabul to a heroic welcome!
How the Taliban seized control: Just last week, US intelligence analysts had predicted it would likely take several more weeks before Afghanistan's civilian government in Kabul fell to Taliban fighters. In reality, it only took not more than 40 hours to take control of the major portion of Afghanistan other than pockets in the Panjshir region near Kabul led by vice president Amrullah Saleh, who is waging a lone war to fight the onslaught of rising of Taliban after 20 years, after ruling the nation from the year 1996 to 2001. 
The origins of the Taliban can be traced to southern Afghanistan in 1994. They were founded by Mullah Mohammad Omar, a mujahedeen commander who helped push the Soviets out of the country in 1989 and by 1996 had taken control. The group quickly imposed its harsh interpretation of Islam, banning television and music, and prohibiting girls from going to school. Women were forced to wear head-to-toe coverings. The group also provided refuge to bin Laden while he planned Sept. 11, 2001, terrorist attacks on the US.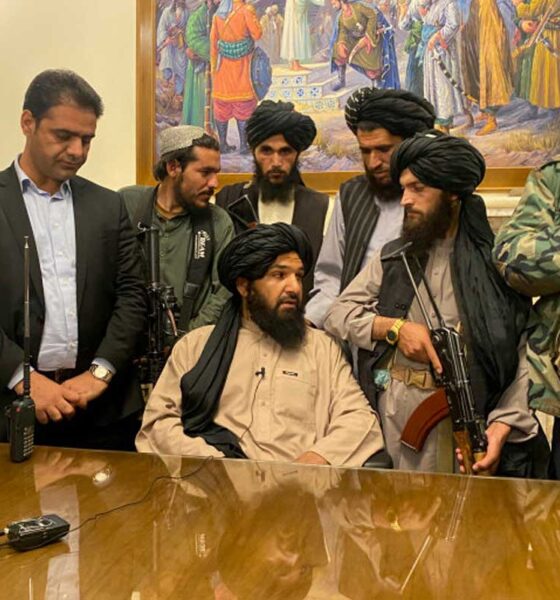 As the Taliban troops entered Kabul, Afghan President Ashraf Ghani fled the country, leaving the government in collapse, demoralised Afghan security forces offered no resistance as the insurgents, who seized most of the country in just over a week, appeared Sunday morning on Kabul's outskirts, waiting to enter Kabul and the Presidential Palace
Accusations on Ashraf Ghani: Russian embassy in Kabul said on Monday that Afghan President Ashraf Ghani had fled the country with four cars and a helicopter full of cash and had to leave some money behind as it would not all fit in. He has been given asylum in the United Arab Emirates on humanitarian grounds.
While official records state that the Afghan security forces number over 300,000, the BBC reported that the true number is likely to be lower. Comparatively, the US Combating Terrorism Center at West Point, estimates that the Taliban have 60,000 core fighters, with additional militia groups and supporters that could swell that number to around 200,000 or more.
Evacuation of foreign diplomats: On Monday, western nations of the European Union and the USA scrambled to evacuate both their diplomats and citizens working for different aid agencies. American diplomats were flown by helicopter to the airport from their embassy since the Taliban was searching for their enemies and then taken out from the Hamid Karzai airport either to Doha – Qatar or to Dubai in the United Arab Emirates (UAE).
An Air India flight AI-243 with 129 passengers aboard had returned from Kabul to New Delhi on Sunday. Another Air India flight scheduled to bring out people will no longer be able to go there, as the Airspace has been closed.
A video of hundreds of Afghans jostling to climb into an aeroplane to fly out of the country amid the Taliban's return may become the lasting defining moments and lasting image of the desperation in the war-torn country.
Some of the main reasons a Taliban takeover in Afghanistan matters to the world.
Afghanistan will have Human Rights problem;
A Taliban regime could again become a safe haven for extremists from world over like before;
A Taliban-ruled Afghanistan might cause instability in Pakistan which will affect India's security; and
China could gain a foothold in the region. It has already acknowledged Taliban's rule in the Afghanistan.
What future beholds for Afghanistan:
Taliban is promising a new era of peace and prosperity in Afghanistan;
But Afghans who remember the Taliban's brutal rule and those who have lived in areas controlled by the Islamic militants in recent years have watched with growing fear as the insurgents have overrun most of the country, while international forces withdraw;
Women were denied education and employment opportunities when the Taliban last held power in 2001;
Women were not allowed to work in places of man domain;
Girls were barred from attending schools;
Music will be banned completely;
Woman cannot appear on TV as anchorwoman in their programs. Shabnam Dawran, a news anchor with state channel RTA Pushto, has released a video saying she went to her office and was told to return home, despite assurances by the Taliban that women would be allowed to work under their rule;
Afghanistan had developed a rag tag film industry and young ladies were taking modeling as their career option and I had met few of them in Afghan related symposia and even shared dais with them. Now this nascent industry will not be allowed to nourish and films will not be released in the makeshift cinema halls;
Women's healthcare was restricted. They will not be consulted by male doctors;
There will not be any beating of drums;
Women were not allowed to leave their homes unless they were accompanied by male relatives. Women cannot walk side by side with their husbands. They will be allowed to walk at a distance behind their husbands; and
Men weren't allowed to cut their beard under any circumstances, but sharia laws allow male to trim their pubic hairs.
If the people didn't follow these rules, they were severely punished.
I really hope that the world quickly does something for the people of Afghanistan as many people over there didn't want to leave their country and wanted to live peacefully.
On the plight of Afghanistan women, I saw and read an interesting meme. They (Afghan women) can wear whatever they want but it should be under the burqa. A woman was killed by the Taliban for wearing tight clothes (jeans) under the burqa. This is the sharia framework! Under the Taliban, women are forbidden from wearing high heeled shoes as no man should hear a woman's footsteps lest it excite him! Real man chauvinist..!
Two Afghani para Olympians cannot go to the para Olympics in Tokyo Japan, one of them is a woman, under the Taliban, she will never ever get the golden opportunity again.
Taliban love cricket, therefore the cricket team will continue to march forward and win laurels, but woman cricket will take a back seat. Will there be any women rights in the Taliban rule? An Afghan diplomat sent the following.
Taliban: Yes, but as per the sharia law. Period.
Islamists and apologists: Taliban respects women rights.
But we all know what it means. Under sharia, two women = one man, women are sowing a field of men, they can be beaten, enslaved and they cannot say no to sex, even though they are menstruating.
Countries including the US and Canada have launched special visas and pathways for Afghan nationals who assisted western forces during the war. Activists have published resources to explain the immigration requirements and processes. While other organisations are seeking volunteers to help with the relocation procedures.
Ironically Bangladesh has flatly refused to take any refugees from another Muslim nation and our liberals and apologists are shouting from the top of the roof to give emergency visas to these Muslims. Are we that fools and Congress leaders are questioning why visas to only Sikhs and Hindus from Afghanistan. Afghanistan is about to revert to the 15th century as far as women's rights and civil rights in an Arab state are concerned and there is nothing that this administration will be able to do about it due to the sheer numbers of US hostages that they will be holding the soldiers. Why oh, why would you pull pulled out the civilians? This will be the epitaph on the tombstone of this administrations grave.
Some insane will always remain forever insane!
Title Image Courtesy: https://www.dnaindia.com/india/
Disclaimer: The views and opinions expressed by the author do not necessarily reflect the views of the Government of India and Defence Research and Studies