Indian Air Force is celebrating their 88th anniversary today. Securing our airspace from external aggression is one of their prime mission. Buiding an infallible air defence infrastructure is the need of the hour. In this series of articles, we will evaluate the S 400, air defence system.
Shipment of the advanced air defence system, S 400 from Russia to China has been deferred view current geopolitical situation in Asia pacific. India is also acquiring the same missile defence system from Russia. The commencement of delivery of this system to India is scheduled as per contract.  In this part of the article, we attempt to explore the features and capabilities of the S 400 system.
Need for an Integrated Missile Shield
Neutralizing an incoming enemy missile midair is always a challenging task for the Armed Forces during the war. Missiles are weapons with a high probability of destruction against the low cost of deployment.
Ballistic and high precision cruise missiles were extensively used during the course of the Gulf wars. Missiles are lethal and are launched against specific targets that are highly critical. Shielding military assets from missiles is a very important facet during the course of a war. India has an air defence system in place for both the Air Force as well as the Army. A unified air defence command is also in the offing under the newly formed Chief of Defence Staff (CDS) towards optimizing assets. An integrated missile shield under unified command could shield our nation from all possible air space aggression.
The induction and deployment of 'S-400 Triumph' would be a giant leap in securing our air space. The S-400 system is an integrated missile defence system which detects, analyses, designates, prioritises and tracks multiple incoming enemy missiles and aircraft simultaneously and would launch appropriate surface-to-air-missiles to engage these targets before they reach their destination.
S-400 'Triumph'
S 400 can destroy incoming ballistic and cruise missiles, drones, fighter jets and other military aircraft. It was inducted by Russians in the year 2007. SA-21 'Growler', is the NATO name for the S-400 system. The system can engage targets up to a distance of 400 km at an altitude up to 30 km. The S-400 is rated as the best air defence system in the world and has undergone many improvisation post-induction. Besides India, nations like China, Turkey, Syria and Saudi Arabia have concluded contracts with Russia for acquiring this system.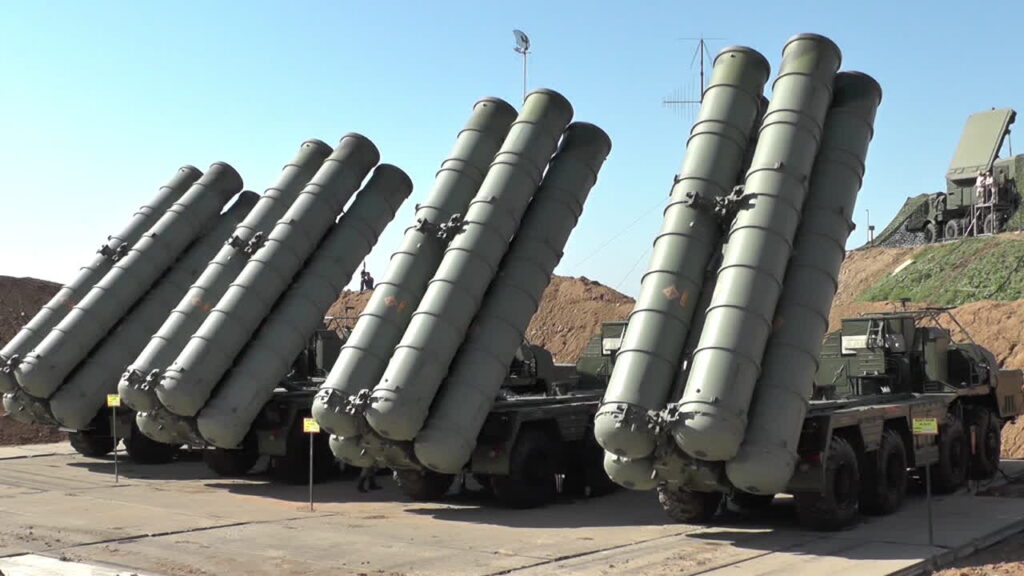 Evolution of S-400
The S 400 system is an upgrade to an older version of S-300PMU-3, which is a successor to S200 and S300 systems. Around 70 per cent of the technology involved in the S-400 design was adapted from S-300, including missile storage containers, launchers and radars. Each warhead can carry 143 kg of explosives. The system can be deployed on a stationary as well as on a moving platform.
In Russia, S-500 "Prometheus", the successor of S-400 is getting primed post trials for serial production. It has an engagement distance of 600 km and can kill hyper-sonic targets. The much-hyped S-500 system can easily surpass NATO offensive weapons and it appears to be superior to all NATO anti-air and anti-missile systems. India will always have an option to upgrade S-400 to S-500 in the coming years.
General Characteristics of S 400
| | |
| --- | --- |
| Parameters | Range/Values |
| Target detection range | 400 km |
| Number of simultaneously tracked targets | 300 |
| Maximum target speed | 4800 km |
| Number of targets that can engage simultaneously | 36 |
| Number of guided missiles stored per system for launch | 72 |
| Engagement target range (Aircraft) | Between 3-250 km |
| Engagement target range (ballistic and guided missiles) | Between 5-60 km |
| Minimum target engagement altitude (Aircraft) | 2 km |
| Maximum target engagement altitude (Aircraft) | 27 km |
| Minimum ballistic target altitude (Missiles) | 0.01 km |
| Maximum ballistic target altitude (Missiles) | 27 km |
| Continuous operation time | Unlimited |
| Operating temperature range, ºС | ±50 |
| Calendar life of system | 15 years |
Source: http://roe.ru/eng/
S-400 and US Concerns
Turkey, a NATO ally, has acquired the S-400 system recently from Russia. The United States is worried about the inter-operability of existing NATO systems with S-400 system in the region. The superiority of the S-400 over the existing 'Patriot, THAAD or even National Advanced Surface to Air Missile System-II (NASAMS-II)' of NATO is a matter of great concern for the US. Future delivery of the NATO weapons to Turkey is irresolute. Exploiting the imminent situation in Turkey, Russians are now offering more weapons to Turkey, which may offset the existing military parity in Europe.
The S-400 presently deployed at Turkey could map, record and analyse the stealth characteristics of NATO aircraft flying in the near vicinity. F 35 crews have to think twice before opening their electronic emitters. The integrated low-frequency radars of the S-400 would be able to track and target stealth aircraft using triangulation. Billions of dollars spent by the US for the development of stealth features in NATO aircraft may go in vain.
The advantages offered by S-400 outweigh the risk of sanctions from the US. The induction of S-400 could limit India's ability to have interoperability with NATO systems being supplied by the US. The US has already conveyed their concerns in continuing long-term strategic partnership with India due to the presence of S 400.
Despite strong dissent from the US, India went ahead and concluded the contract with Russia for S-400. A possible imposition of economic sanctions by the US against India under 'Countering America's Adversaries Through Sanctions Act' (CAATSA) is imminent. But under the US National Defence Authorization Act (NDAA), as a special case, a provision exists for a waiver for India. It is very important that India should maintain the defence acquisition channels open to both the US as well as Russia. By choosing the best available weapons between Russia and the US, we can always optimise our defence capabilities in a cost-effective manner.
India–Russia Deal for S-400
India has been eyeing the S-400 system since the year 2015. The contract finally got concluded only by 05 October 2018. The deal with Russia amounts to a whopping US$ 5.43 billion against five S-400 systems, wherein US$ 800 million has already been paid as advance. The delivery of S 400 from Russia would commence this year and will get completed by April 2023. Integration with the existing air defence would be taken up concurrently along with the deployment of S 400.
Development and Production
The S-400 system is designed, developed and manufactured by M/s Almaz-Antey Air and Space Defence Corporation, a Joint Stock Company (JSC) with the help of famous M/s MKB Fakel JSC. The Almaz-Antey Corporation is engaged in the development and production of small, medium and long range anti-aircraft missile systems. It is also engaged in research, design, development and production of military systems like reconnaissance radar, automated control systems and satnav systems. By 2007, it underwent an expansion by integrating more than 60 enterprises across Russia. M/s Almaz-Antey has its registered legal office in Moscow and is controlled by 'Rosoboronexport' (ROE), the state enterprise which controls the overseas market of weapons and associated systems manufactured in Russia.
Part 2 of this article will be published subsequently, which will explore the sub-systems of the S 400 system
Title Image Courtsesy : https://www.breakingisraelnews.com/
Disclaimer: The views and opinions expressed by the author do not necessarily reflect the views of the Government of India and Defence Research and Studies.
References
http://www.almaz-antey.ru/en/
http://roe.ru/eng/
http://roe.ru/eng/catalog/air-defence-systems
http://roe.ru/eng/catalog/air-defence-systems/air-defense-systems-and-mounts/s-400-triumf/
https://www.lockheedmartin.com/en-us/products/thaad.html
https://www.defenseworld.net/feature/20/
https://www.army-technology.com/projects/
https://missilethreat.csis.org/defsys/
https://www.zerohedge.com/news
https://www.ausairpower.net
https://www.bbc.com/news/world-asia-india-45757556
https://timesofindia.indiatimes.com/india
https://www.armyrecognition.com/
https://www.financialexpress.com/
https://akm-img-a-in.tosshub.com/indiatoday
https://www.indiatoday.in
https://economictimes.indiatimes.com/news/defence
ttps://thediplomat.com/2019/06/
https://thaimilitaryandasianregion.wordpress.com/
https://theprint.in/defence
http://www.deagel.com/Defensive-Weapons
http://www.bharat-rakshak.com/IAF/today/contemporary/325-sad.html
http://www.bharat-rakshak.com/IAF/today/contemporary/328-bmd.html
http://www.indiandefencereview.com/news/
http://www.sps-aviation.com/news
https://geopoliticalfutures.com/profiling