Human activities are now a risk to any beach. In poorer countries, insufficient recycling and garbage management have led to massive plastic polluted beaches. Despite India's 5,420 km of mainland coastline and 43 percent of pristine beaches, information on trash accumulation, particularly plastics, one of the most widespread and persistent contaminants in the maritime environment, is limited. 
Plastic is observed to be the prominent sort of litter found on most beaches. Food wrappers, glass containers, and fishing nets were among the trash discovered on the beaches too. Secluded beaches like Uttan and Gorai were cleaner, with far less plastic and glass waste, but abandoned fishing nets remain a big worry as depicted in the table below. 
Table 1: Site-wise weight (kg) of all the litter types found on 10 beaches of Mumbai:
Source: Technical Report: ReefWatch Marine Conservation: 25 pp
Types of Plastic Waste Found:
Thermocol which is often known as expanded polystyrene or EPS is among the types of plastic spotted along Mumbai's coastline and beaches. Polystyrene made up roughly 16 percent of plastic waste recovered from three Mumbai beaches: Juhu, Mahim, and Ambojwadi in Malad, according to Helen White, an oceanographer at Haverford College in Pennsylvania, United States of America. PVC which is polyvinyl chloride accounted for 40% of the waste, which is commonly used to produce drainpipes, medical gadgets, and electrical wiring, among other things. PET, which is commonly used in food and beverage packaging, accounted for 17% of the total. Polyvinyl Acetate which is PVA accounted for 1%, acetal for 1%, and silicon for 1%, which are all a massive range of applications as industrial materials and in the production of consumer electronics, were also discovered in trace amounts.
Effects of Plastic Littering:
Plastic waste is denying fishing groups residing close to Mumbai's coastlines as well as the Arabian Sea establishes fishing grounds and livelihoods. "Sometimes, at high tide during monsoon months, there's so much plastic floating on the water you can't possibly go swimming or surfing," Bamaniya a resident and surfer remarked. "When hauling fish, we end up with several kilos of plastic waste in the nets." he discussed.
Source: www.magustafson.com
The plastic to fish ratio is estimated to be 1:17, according to Martin Xavier, who works at CIFE's Fisheries Resource Harvest and Post-harvest Management Division and was one of the scientists engaged in the 25 trawls. "For every 17 kilograms of fish caught by a trawler off the coast of Mumbai, a similar 1 kilogram of plastic is also caught accidentally," he said.
The presence of plastics is a health hazard as well as an environmental hazard." "As plastics remain in the environment, they become a source for microplastics, which eventually enter the food chain and potentially bio accumulate in humans," Xavier explained.
He supervised the research in 2019 that found 80 microplastic particles per 100 grams of Mumbai-caught fish, clams, oysters, and shrimp. Microplastics are little bits of plastic with a length of less than 5mm that reach the ecological environment due to littering and dumping of a variety of consumer and industrial items. Wind, abrasion, and UV light cause big pieces of plastic to shatter into smaller bits over time. These could be eaten by marine animals and then passed up the food chain when people eat fish.
Solution:
We are the ones who litter, hence it is our duty to clean up. The new BBC Blue Planet series, hosted by David Attenborough, brought the subject to the limelight to spread awareness via media. Attenborough remarked, pointing to the 8 million tonnes of plastic that enter the oceans every year. Humanity's destiny, and indeed all life on Earth's future, is in our hands."
Source: Boredpanda
On record, India has a strong system of regulations to cope with plastic pollution, such as the Centre's Solid Waste Management Rules and the Plastic Waste Management Rules, according to Shah. The Centre has proposed a program dubbed Extended Producer Responsibility (EPR) in 2020, which would require producers to recycle an amount of plastic equal to what they produced. Even though these regulations describe methods for plastic gathering, sorting, and recycling, they only resolve the issue of plastic after it has become waste. Instead, researchers recommend a "circular economy of plastic," in which these materials are not permitted to become toxins in the environment.
An innovative solution taken by Barcelona's government devised a creative solution: fishermen taking the forefront in the fight against marine trash. Fishermen were sponsored with 1 million euros from the European Union and the Catalan government. "With the cash, they were able to upgrade what they need to bring on board the boxes, all of the necessary facilities in order to deal with the situation and we are hopeful that it will be reproduced in other areas of the Mediterranean" Tudela the General Director of Catalonian Fisheries told VOA. With India's large army of fishermen & coastal residents, great results could be achieved.
Artistic recycling is a major solution to cleaning up beaches as well as raising awareness. "My aspiration with this artwork, created with hard-to-recycle plastic, was to portray them with the very waste that bothers them," says Manveer Singh "It's a project to show the everyday person how much garbage is coming up on the beaches," says artist Angela Haseltine Pozzi who created 'Washed Ashore' as shown in the picture on the right, from plastic trash collected from Southern Oregon's beaches.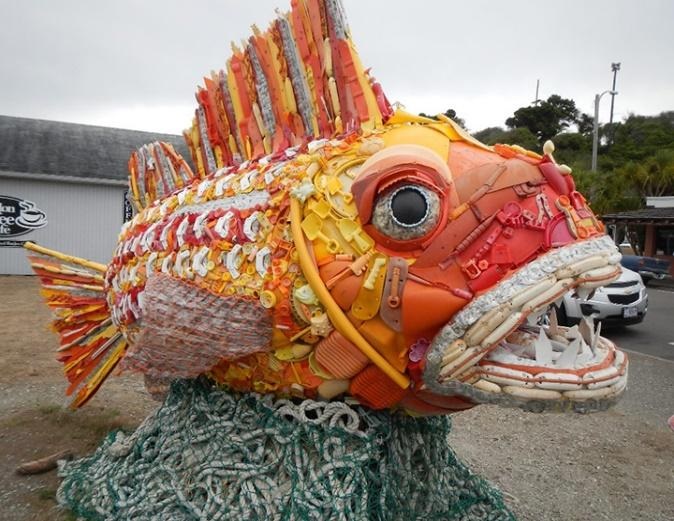 Source: https://response.restoration.noaa.gov
Hence to save our beaches and our planet, plastic must be eliminated for a better future where there are more fish rather than plastic in the sea.
Disclaimer: The views and opinions expressed by the author do not necessarily reflect the views of the Government of India and Defence Research and Studies
Title image courtesy: Many of Many
References:
1) Bored panda. (2020). https://www.boredpanda.com/waste-aware-animals-environmental-comics-mira-petrova/?utm_source=gabrielagrozavu.wordpress&utm_medium=referral&utm_campaign=organic
2) ‌Condé Nast Traveller. (2019, September 9). Mumbai's sea will have more plastic than fish in a few years. Condé Nast Traveller India; Condé Nast Traveller India. https://www.cntraveller.in/story/mumbai-sea-will-plastic-fish-years/
3) hulladekmentes.hu. (2018, April 22). 15 műanyagmentes grafika a Föld napja alkalmából – Hulladékmentes.hu. Hulladékmentes.hu. https://hulladekmentes.hu/2018/04/22/muanyagmentes-grafikak-a-fold-napja-alkalmabol/
4) ‌‌Jayasiri, H. B., Purushothaman, C. S., & Vennila, A. (2013). Quantitative analysis of plastic debris on recreational beaches in Mumbai, India. Marine Pollution Bulletin, 77(1-2), 107–112. https://doi.org/10.1016/j.marpolbul.2013.10.024
5) Jowit, J. (2018, January 24). Local people tackle the tide of beach plastic in Mumbai. The Guardian; The Guardian. https://www.theguardian.com/environment/2018/jan/24/local-people-tackle-tide-of-beach-plastic-in-mumbai
6) ‌Pathak G. (2018). "Plastic Pollution" and Plastics as Pollution in Mumbai, India. (2018). Ethnos. https://www.tandfonline.com/doi/full/10.1080/00141844.2020.1839116
7) Lifestyle Desk. (2021, December 2). Delhi-based artist installs 15-feet Olive Ridley sea turtle artwork using plastic at Puri beach. The Indian Express; The Indian Express. https://indianexpress.com/article/lifestyle/art-and-culture/manveer-singh-plasticvalla-olive-ridley-sea-turtle-artwork-plastic-waste-puri-beach-7642340/
‌8)‌ Prayag Arora-Desai. (2021, November 7). Plastic pollution: A crisis in Mumbai's beaches and the Arabian Sea. Hindustan Times; Hindustan Times. https://www.hindustantimes.com/cities/mumbai-news/plastic-pollution-a-crisis-in-mumbai-s-beaches-and-the-arabian-sea-101636309809709.html
9) Ridgwell, H. (2020, February 26). Catching Plastic: Fishermen on Frontline of Ocean Clean-up. VOA; Catching Plastic: Fishermen on Frontline of Ocean Clean-up. https://www.voanews.com/a/science-health_catching-plastic-fishermen-frontline-ocean-clean/6184861.html
10) Shah Nawaz Jelil, & Nayantara Jain. (2014). A rapid assessment of beach litter in Mumbai beaches. ResearchGate; unknown. https://www.researchgate.net/publication/305723108_A_rapid_assessment_of_beach_litter_in_Mumbai_beaches